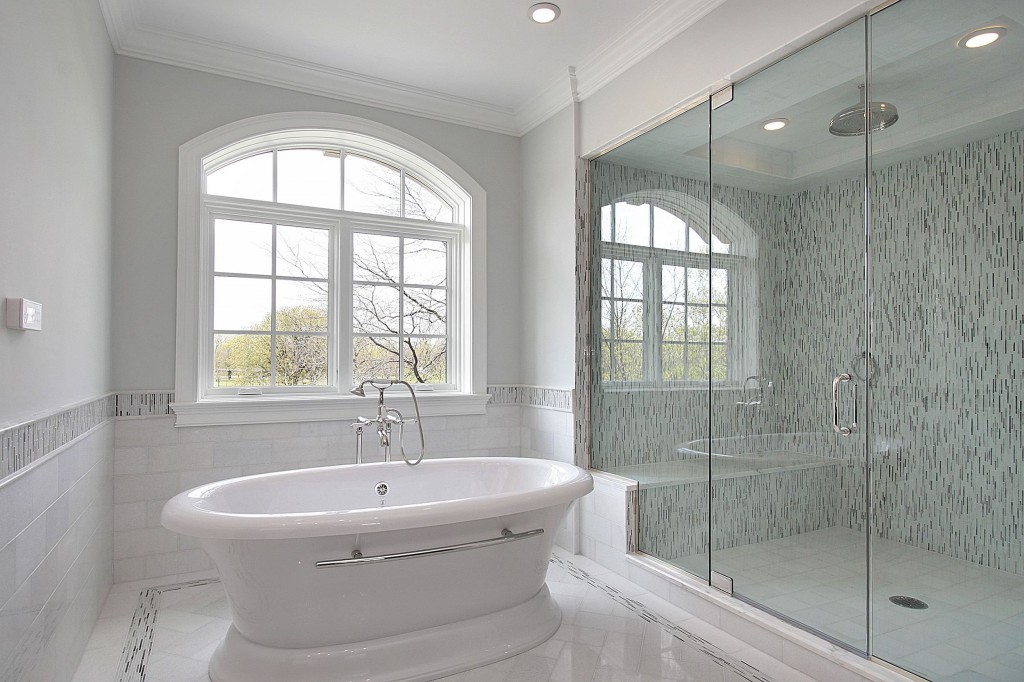 Bathroom Renovations Edmonton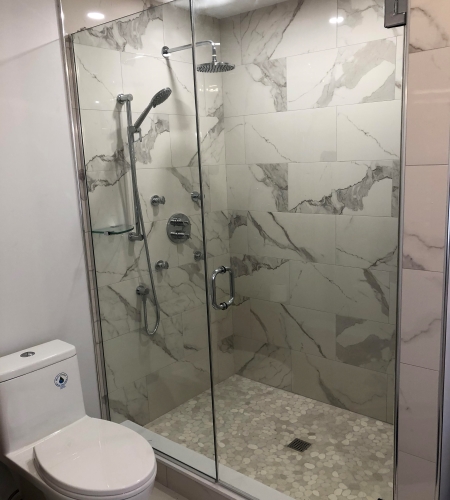 Professional Bathroom Renovations – Edmonton & Area
Do It All Contracting Ltd has been providing bathroom renovations services in the Edmonton, Alberta area for more than 23 years. Over the past 20 years, we've developed a strong reputation in the Edmonton area, all thanks to our wide array of bathroom renovations & remodeling and our commitment to properly getting the job done the first time and within our client's budgets.
We've completed many Edmonton bathroom renovations projects that include:
Complete bathroom remodels
Tub, shower and toilet upgrading and installation
Flooring, including heated tiles
Plumbing and electrical
Cabinetry, vanity and countertops
Whether your bathroom needs a quick facelift or you're looking to complete renovation, Do It All Contracting has the expertise to give you the experience you've been looking for. Servicing Edmonton, St. Albert, Morinville, Sherwood Park, Spruce Grove and area. If you're looking for bathroom renovations Edmonton and area, don't look any further! We're your go-to provider for basement, kitchen, exterior and commercial renovations since 1997.

Benefits That Do It All Contracting Offer In Bathroom Renovation Projects
Bathroom Design Inspirations
There are many interior trends that the world of architecture picks up and drops each year. Some bathroom trends remain timeless. Whether you like to keep it simple or stay trendy concerning the interiors, our team of professionals can give you the design inspirations you need for your project. Therefore, you know well that your money goes into creating something that looks super-stylish.
Smart Sanitary Fittings
Choosing affordable traditional toilet seats, bathtubs, and others are easy. There are, however, smart toilet seats like handsfree flush systems and space-saving tubs and shower designs. Working with professionals like us gives you the advantage of staying informed about the latest such reforms for your bathroom. This can help create intelligent functional bathrooms.
Protecting Your Bathroom
When you are working on a project in your bathroom, even something like a simple tile replacement, you should be careful so that you do not touch any plumbing lines going behind the walls or beneath the flooring. For this, we can help understand the plumbing line layout in the bathroom and carefully execute the design without damaging the lines.
Bathroom Plumbing Work Is Done Right
There are many kinds of plumbing projects chosen as a part of the bathroom renovation venture. We help install the most durable plumbing system layouts taking into account the usage and installed by highly qualified tradesman.
Bathroom Tools and Expertise
Do It All Contracting has the most sophisticated tools that are used by professionals around the world. With this, you have the assurance that your work would be complete in a short duration and also with long-lasting results. With our expertise in handling different sizes and types of bathrooms, we can also pay attention to the little details that make your bathroom stand out.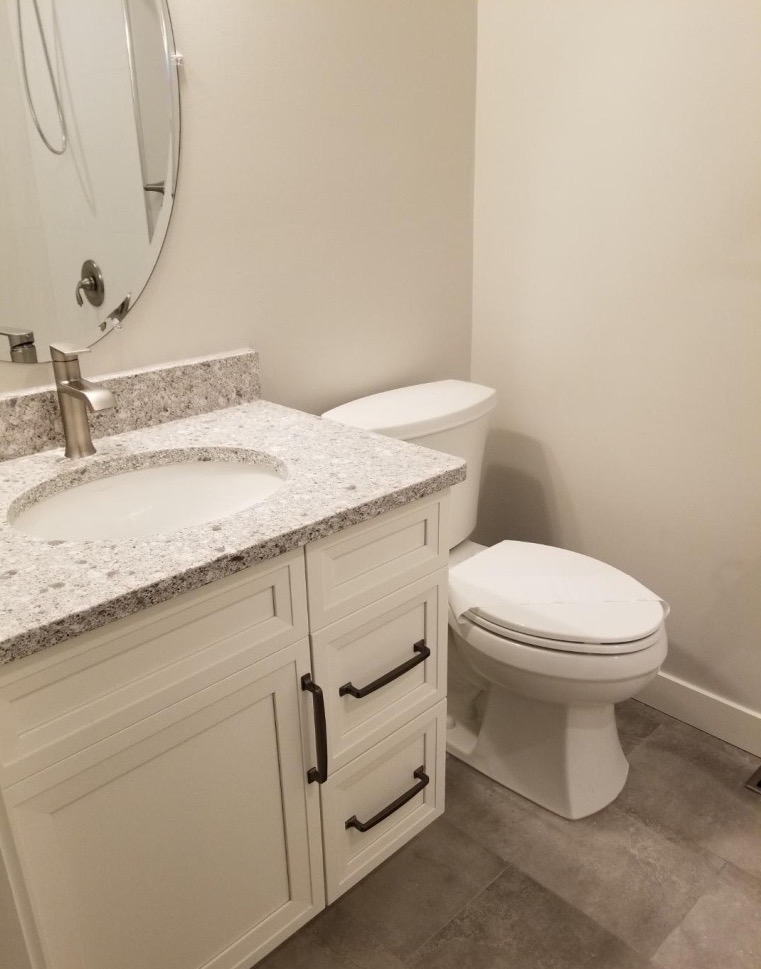 Build the bathroom of your dreams
100% Commitment-Free Quote
Benefits Of Renovating Your Bathroom
Bathroom Safety
You would be able to strengthen the safety of your bathroom by giving it the essentials. Bathroom flooring is one of the main elements that influence the safety aspects. There are many anti-slip tiles available in the market. If you have a bathroom with old worn-out tiles, we help replace them with gorgeous looking tiles offering the best grip. This can be particularly useful in homes with kids where it is close to impossible to maintain the bathroom floors dry at all times. There are many low maintenance tile options available as well. These can be easy to clean and keep the bathroom looking spotless at all times.
Bathroom Comfort
Your comfort is our priority. There are many ways to make the bathroom feel cozier by changing a few details. There are heated tiles, for example, which can help increase the warmth in the bathroom during those cold winter mornings. Renovations in the bathroom can help increase the warmth and comfort in the room in many ways. Therefore, you would have a nice place to retire to at the end of a long tiring day. This creates the right ambience for a long soak.
Fix Underlying Issues
Besides all the functional updates on a bathroom or the aesthetics enhancing projects, there are times where you might need quick resolutions to a variety of existing problems. Cracks in tiles and broken tiles, as well as problems in the plumbing system or bathroom sanitaryware fittings, are all easy to sort out with professional help. Leaks and such common problems require timely resolution to avoid major repairs and expenses in the future.
Energy Efficiency
Some projects help increase energy efficiency in the bathroom. Like upgrading to low energy consuming water heating system, there are many ways to bring down your utility bills with the right types of bathroom restoration projects. There are some can also help reduce the carbon footprint by delivering eco-friendly solutions for the bathroom. There are some low water consuming efficient flush systems and other such measures that ensure that your bathroom utilizes less natural resources.
Increase Home Value
Among the other huge advantages that any homeowner might be able to relate with the other well-known reason for which people spend on their bathroom renovation is to increase the home value. If you have plans to sell your house, then giving all the essential repairs and upgrades to your bathroom can significantly boost the value of your house.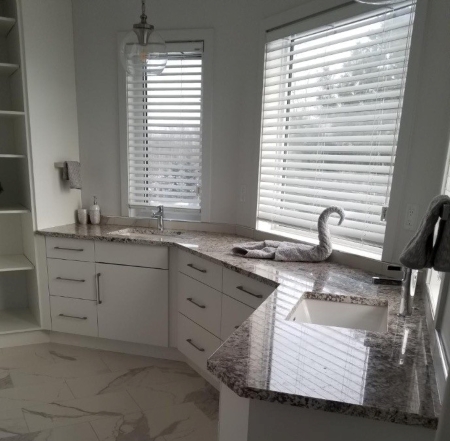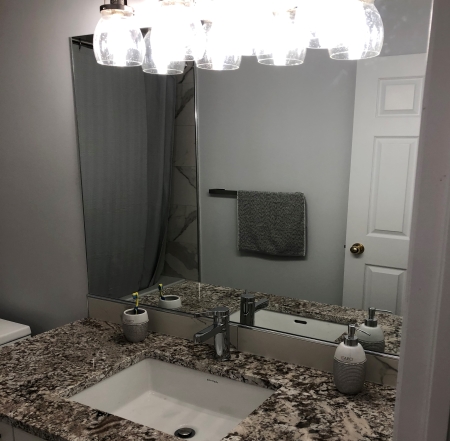 Types Of Bathroom Renovations
As you start using the bathroom in a new house, you might start finding several aspects that need a change. There are, however, some most common upgrades. These are the kind of changes that can make your bathroom look dapper while also ensuring that it is convenient for the whole family to use it.
Tile Changes
Some owners prefer glossy finish tiles, and some like to keep it simple with a matte finish. Some like large tiles as they reduce the number of grout areas to tackle while cleaning while others who love the intricate details that tiny tiles offer. With such diverse preferences that homeowners carry, we make sure that every customer walks out with the joy of finding exactly what they are looking for. If you do not have any idea in mind, we offer the various options available and help you compare them with the help of their strengths and weaknesses. Matte finish tiles, for example, can be easy to maintain as they do not show watermarks that easily. These are also suitable for a minimalist bathroom style. Glossy finish tiles, on the other hand, can make your bathroom look elegant and grand. We specialize in acquiring the most stylish tiles that can drastically alter the looks of your bathrooms. You can choose to work on the wall tiles alone or floor tiles alone or both. You can also experiment with the color schemes in your bathroom with the tile upgrade projects that we offer.
Space Addition Or Alteration
Ensuring that the people using the bathroom do not feel claustrophobic is as important as adding all the essential elements in any modern bathroom. From washbasins to toilet seats and the bathing area setup, many details change the space in a bathroom. You can easily make even the tiniest of bathroom spaces look vast with changes like the addition of a large mirror or changing the lighting in the bathroom. These are ways to create virtual space. Besides this, if you have the real estate for literal expansion of the bathroom, there are many ways to execute that as well. You choose, and we plan and implement that idea and thus alter the bathroom by adding extra space.
Upgrading The Bath and Toilet Sanitary Fittings
When you choose bathtubs, there are plenty of configurations available. There are bathtubs and shower combos and corner bathtubs for the smaller bathrooms. Wall-mounted toilet seats, as well as wall-mounted flush systems, are suitable for small spaces as well. You can pick from endless choices when it comes to carrying out such major reforms for the bathroom.
Storage Solutions
Adding smart storage solutions in the bathroom can help reduce the space that your bath linen takes up in your closet. Even for the cosmetics and extra toiletries, you can always build elegant storage units like vanities and even open storage racks wherever required, in your bathroom. These make sure that all your essentials are always at reach. It is possible to add storage without compromising on the floor space. If you would like to add a countertop or even replace the washbasin with a trendy sink, it is all possible.
Whether it is the bathroom that is attached to the master bedroom or a kids' bathroom or the guest bathroom, we can undertake projects of all sizes and deliver results that solve your intent. Depending on the actual applications, we make it easy to create the right bathroom without having to expand your budget unreasonably.
Photos Of Our Bathroom Renovations (Edmonton & Area)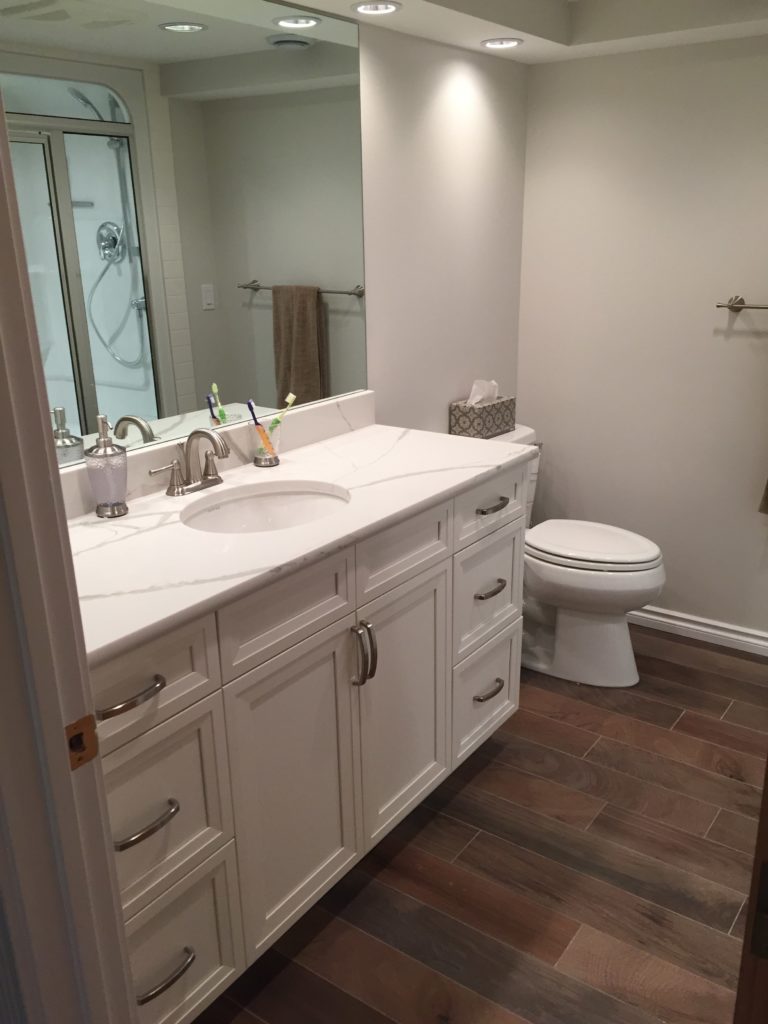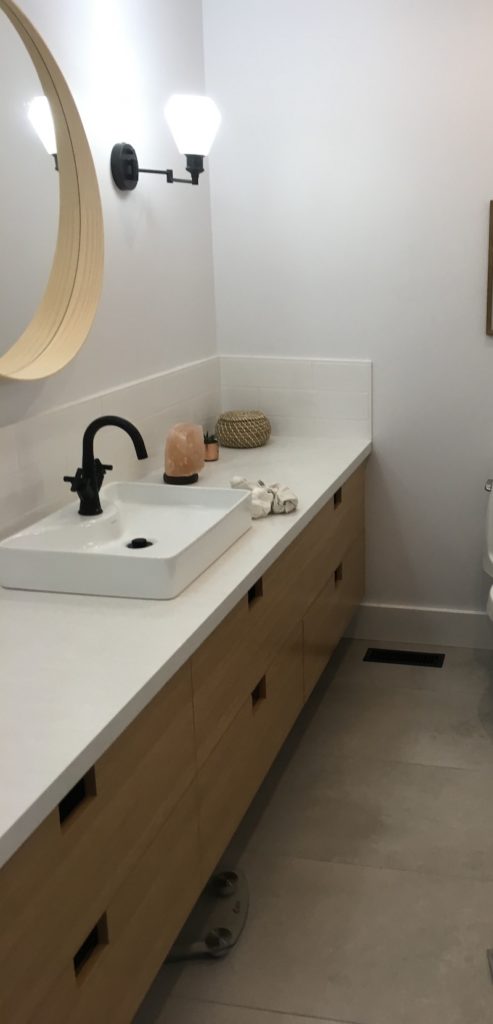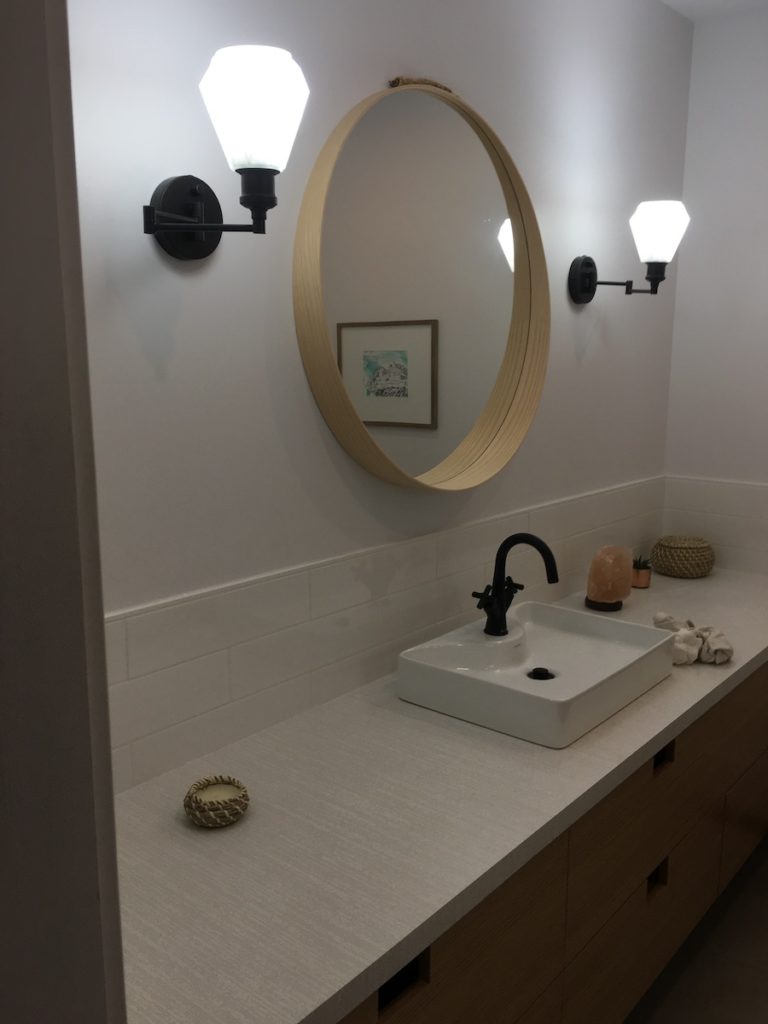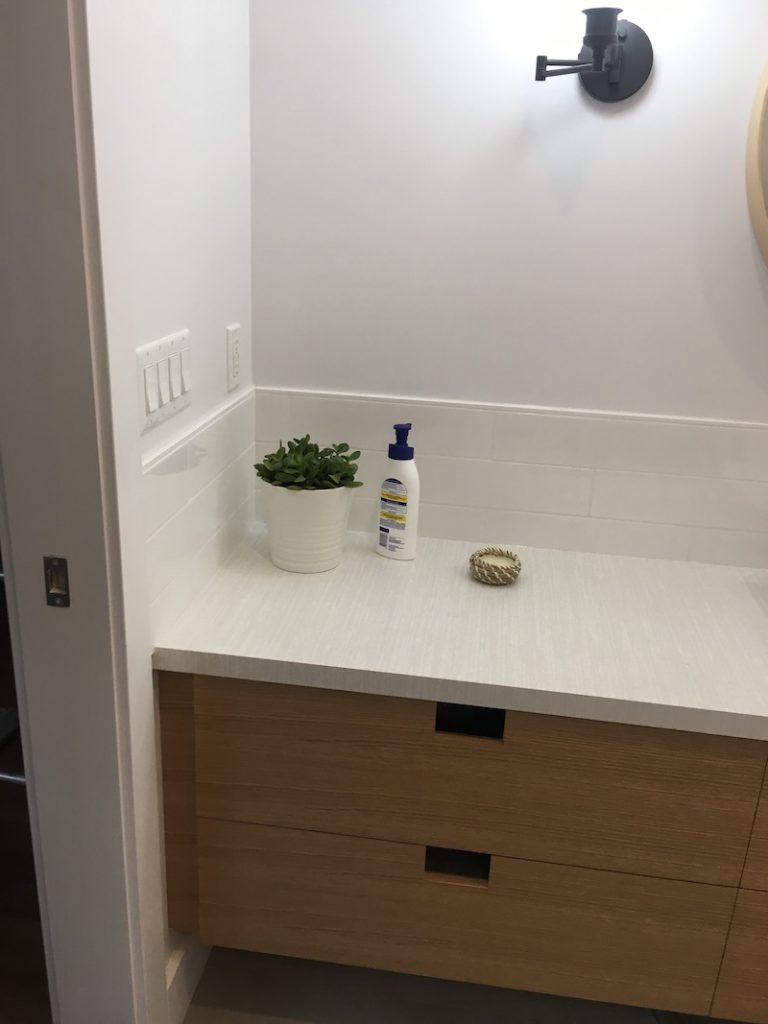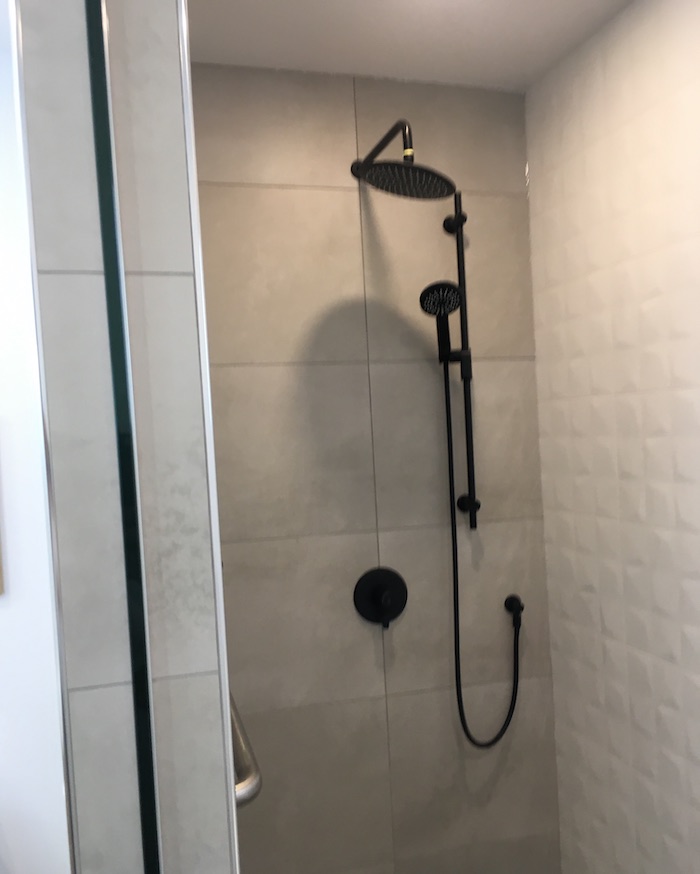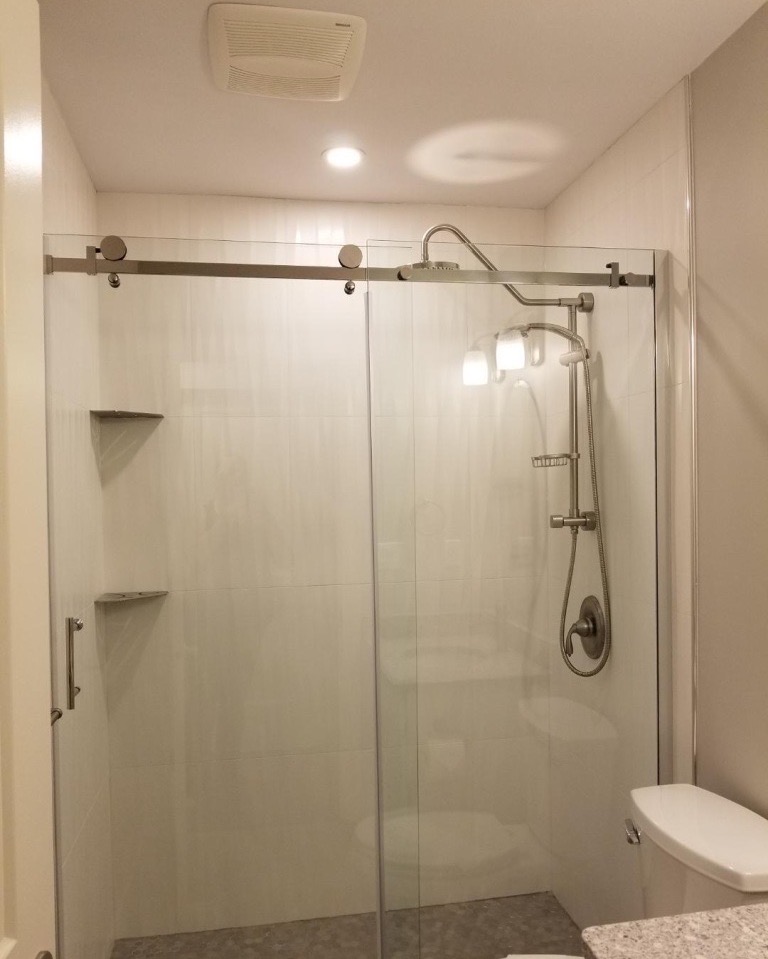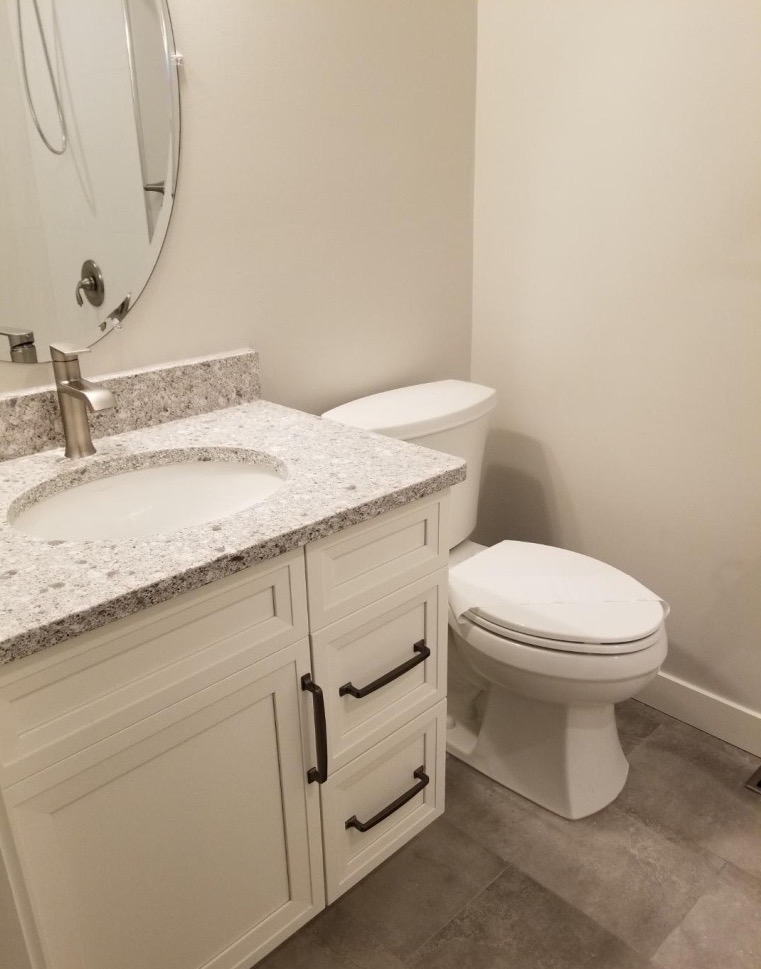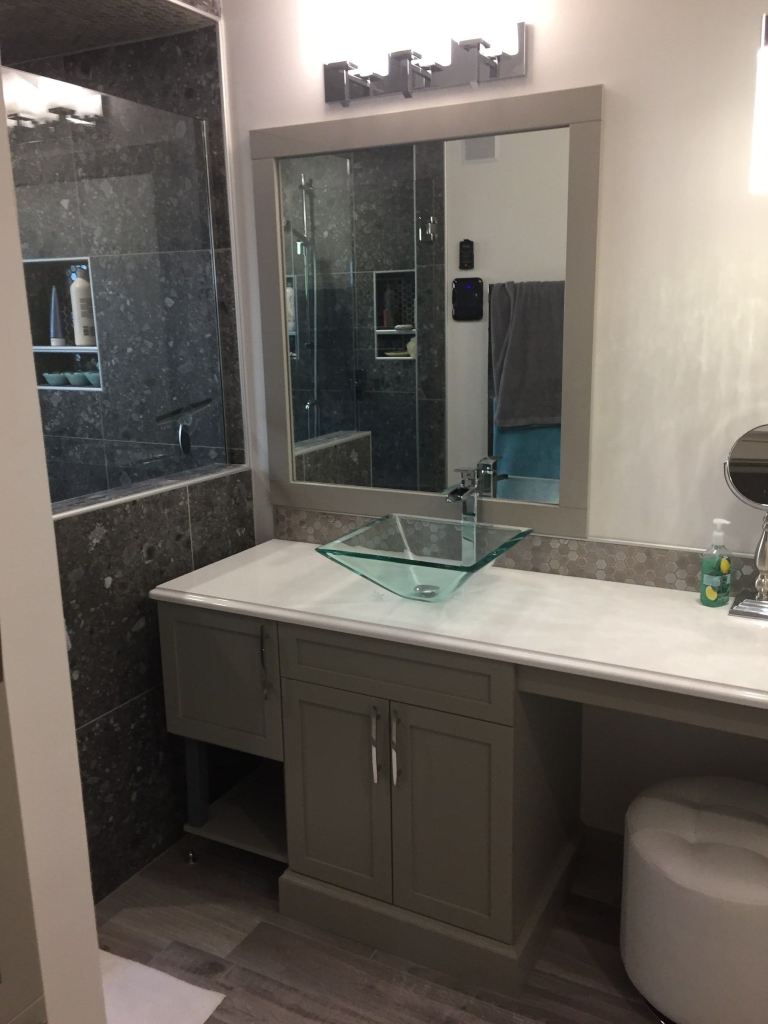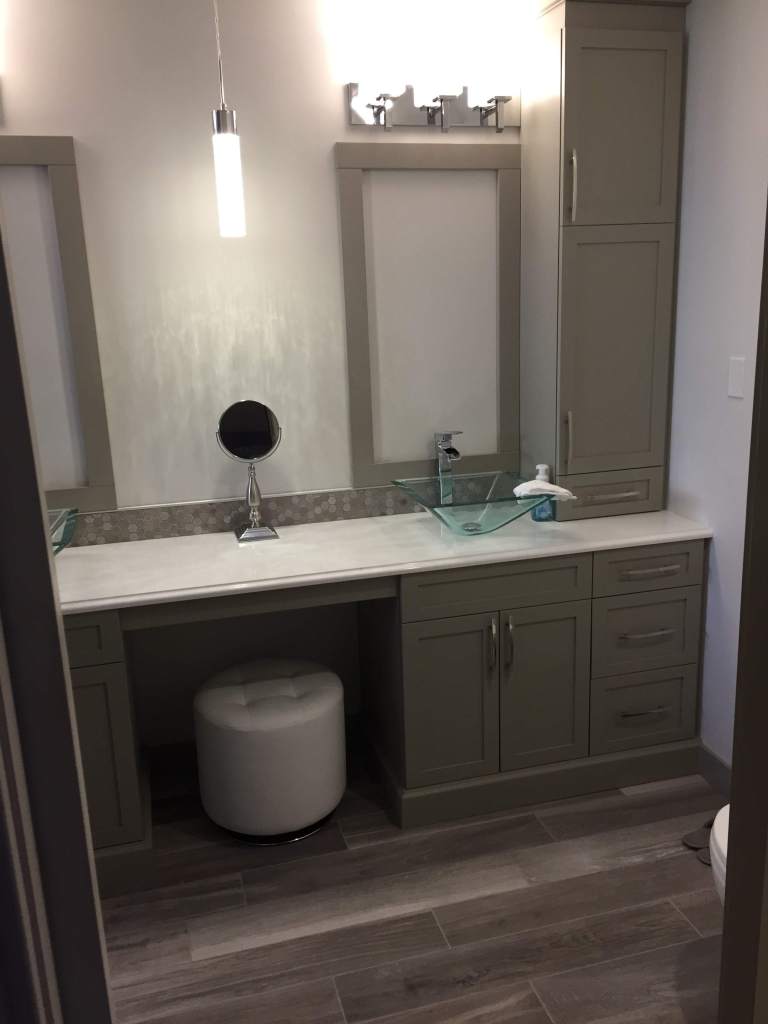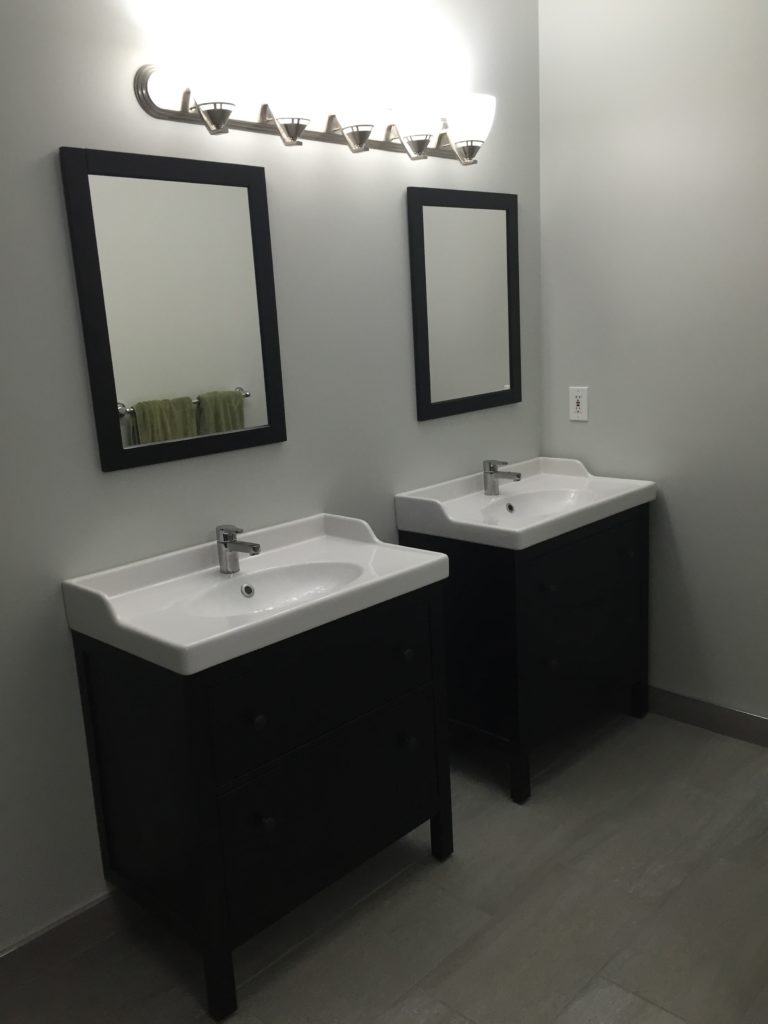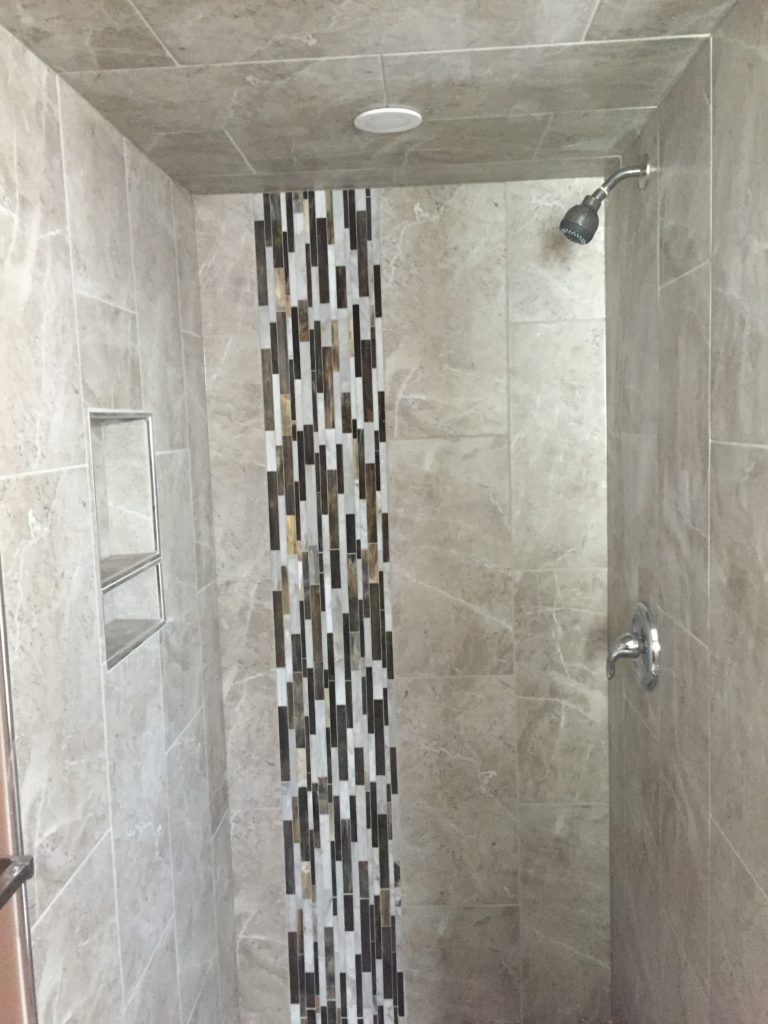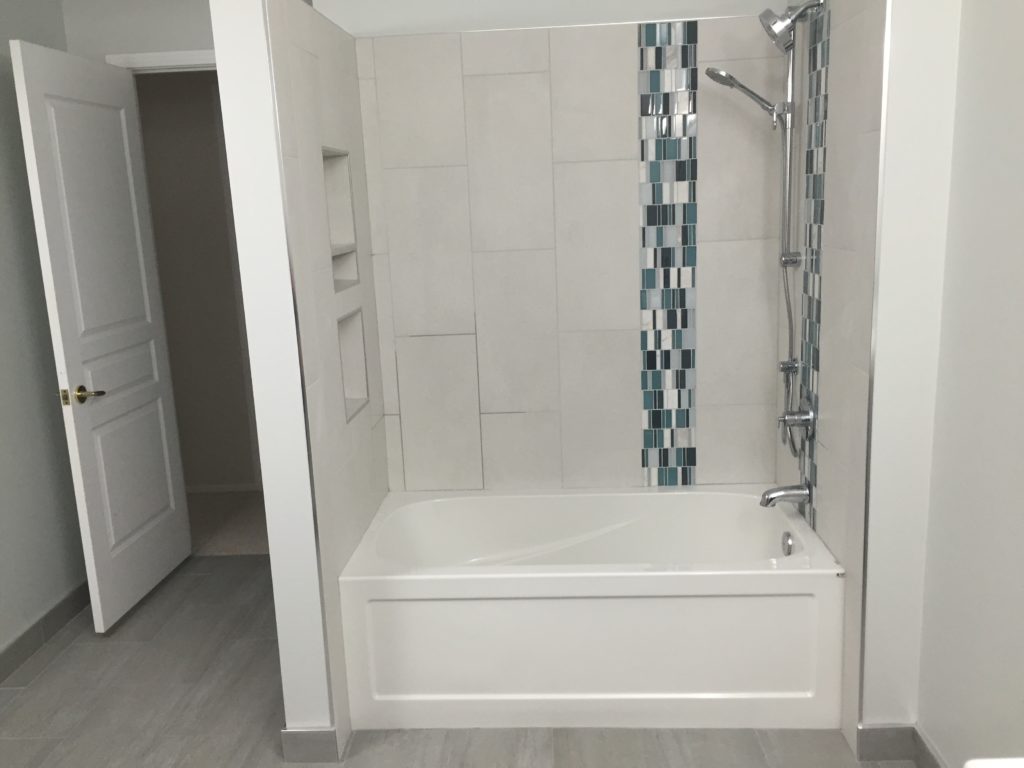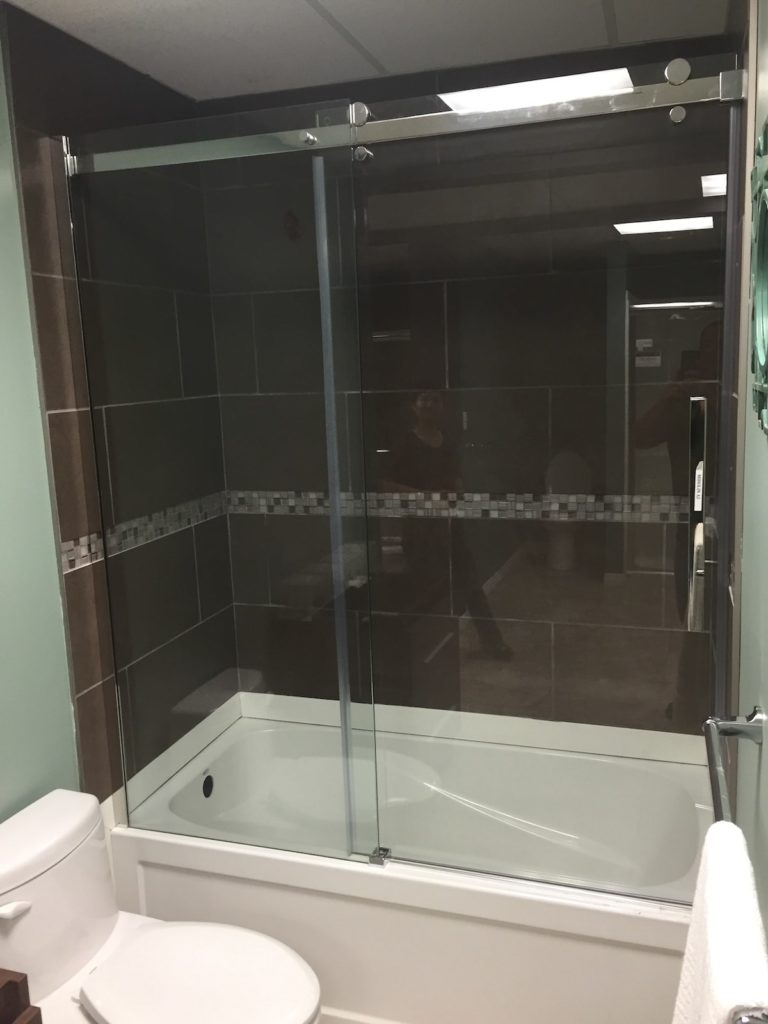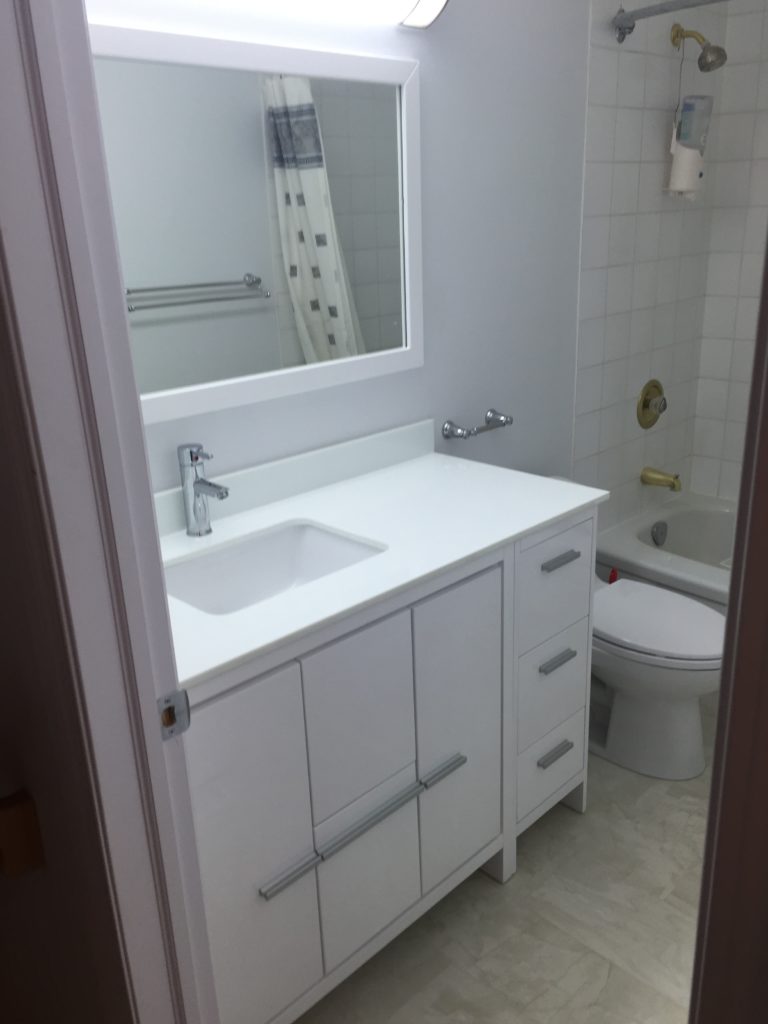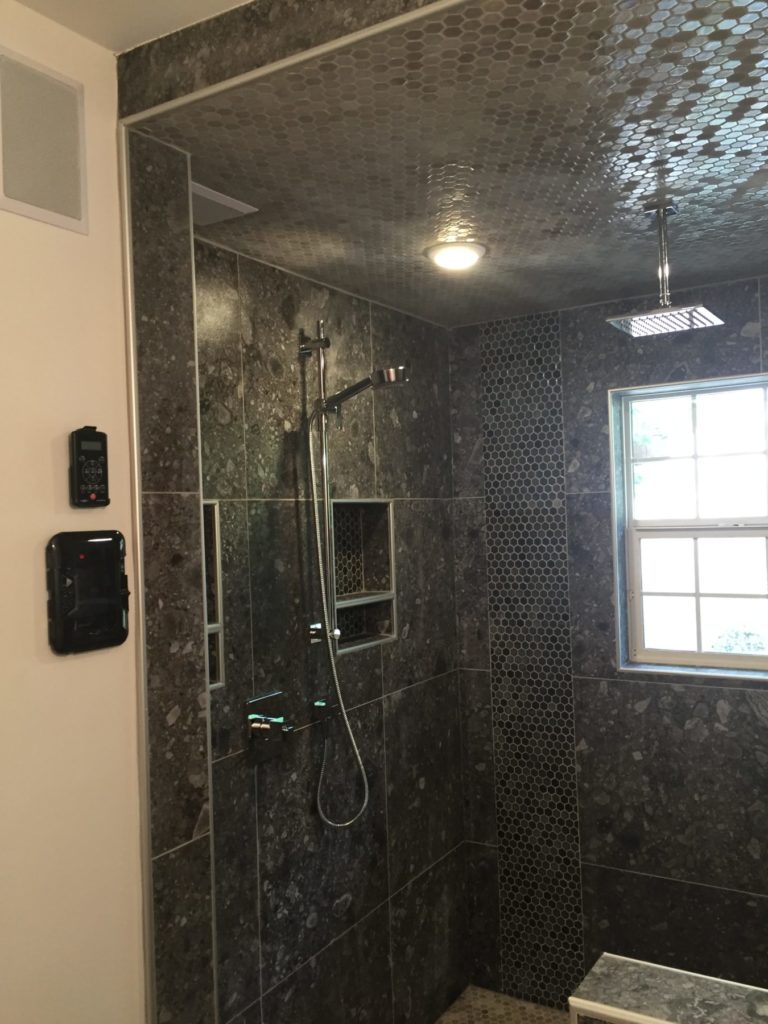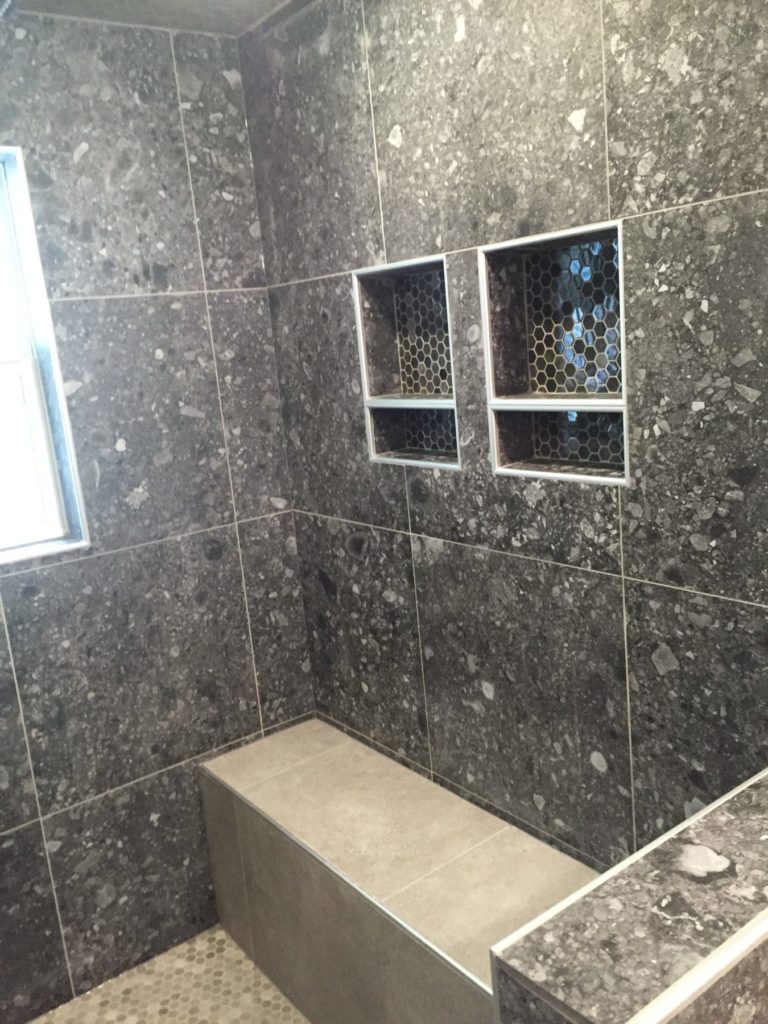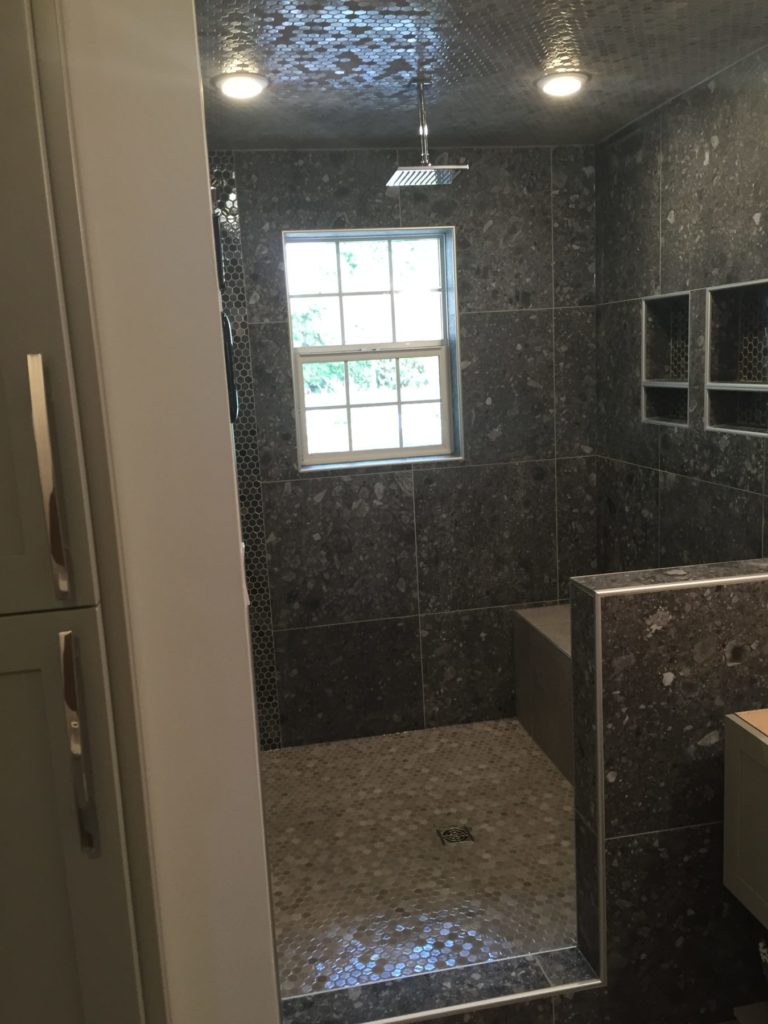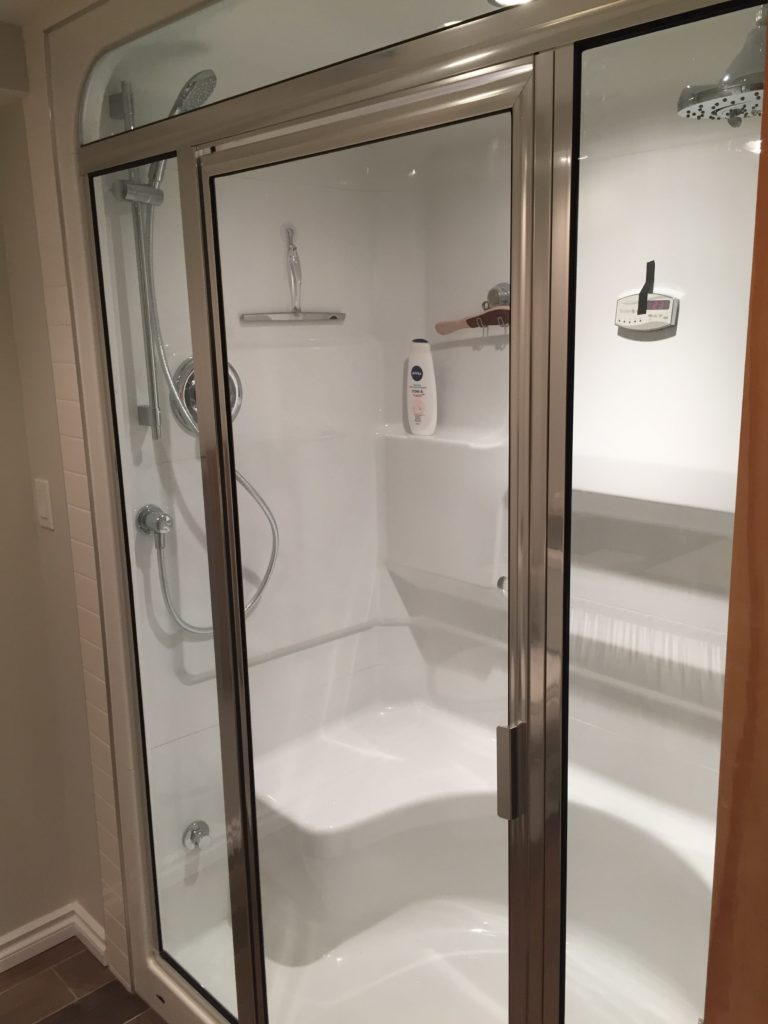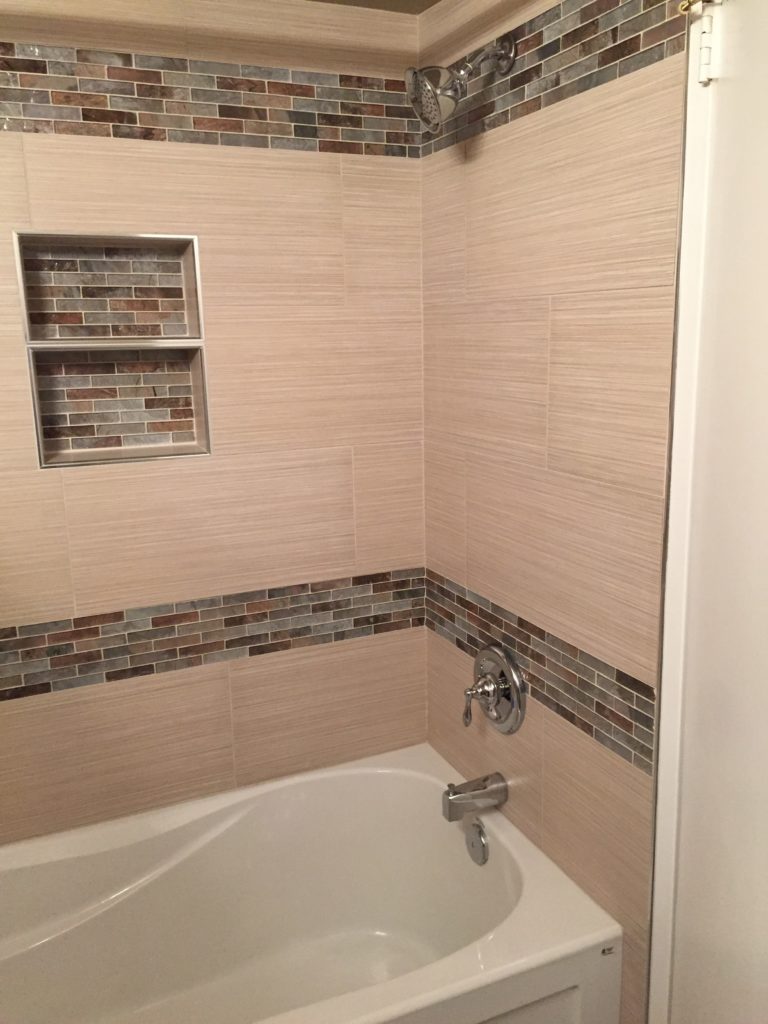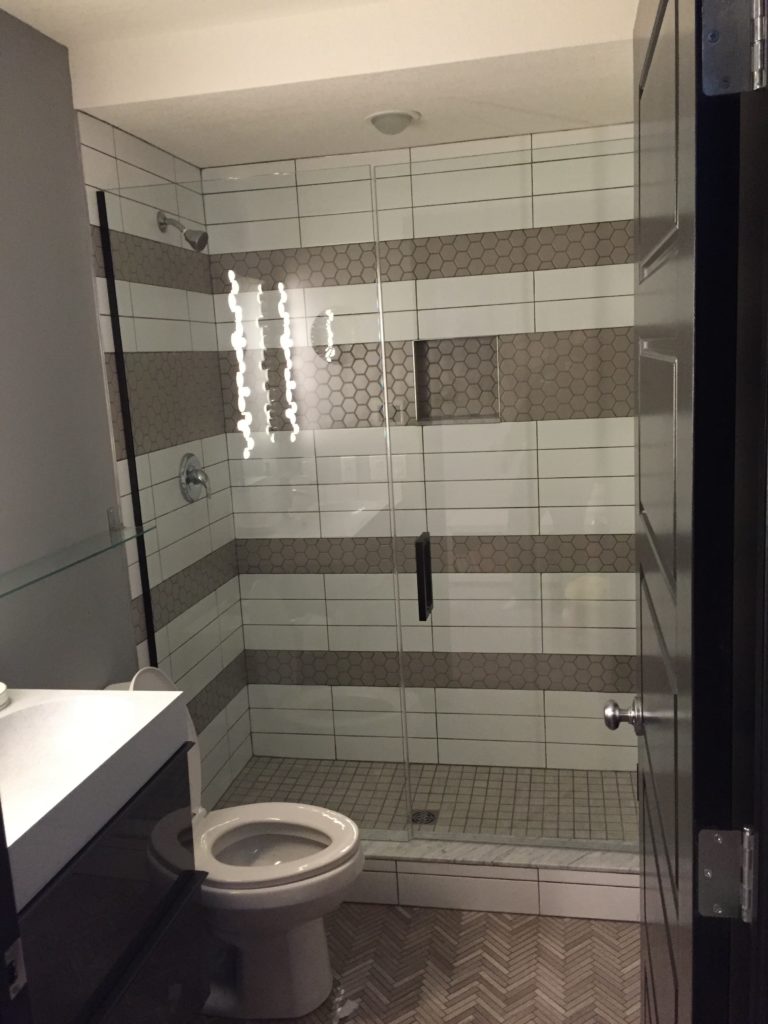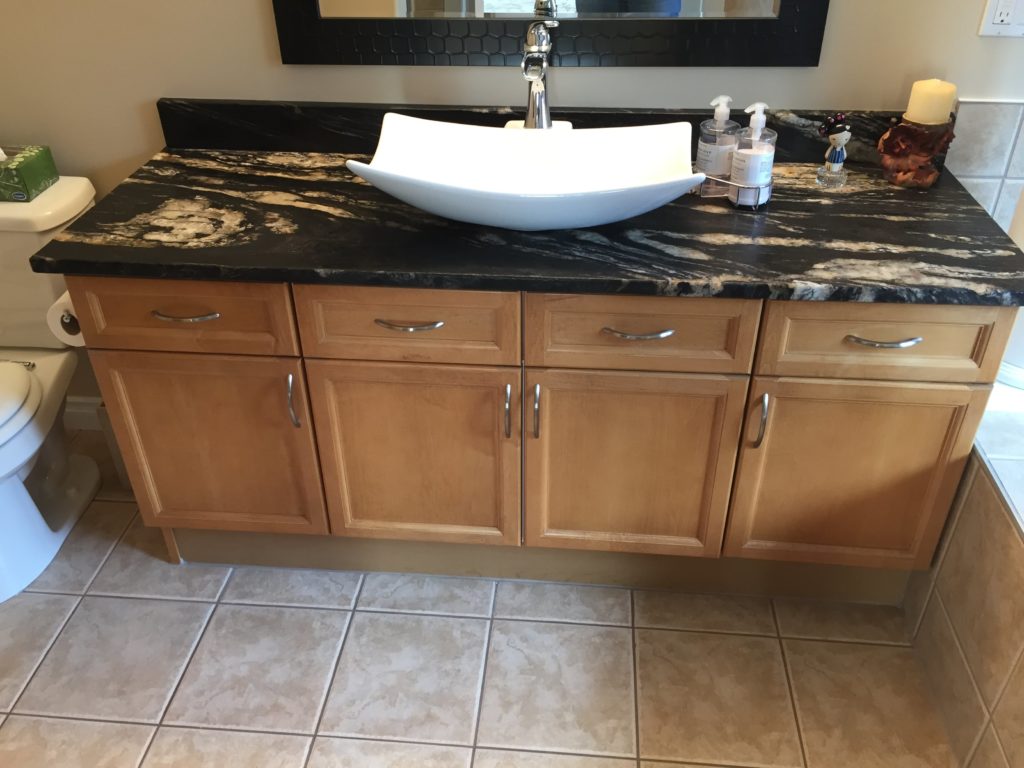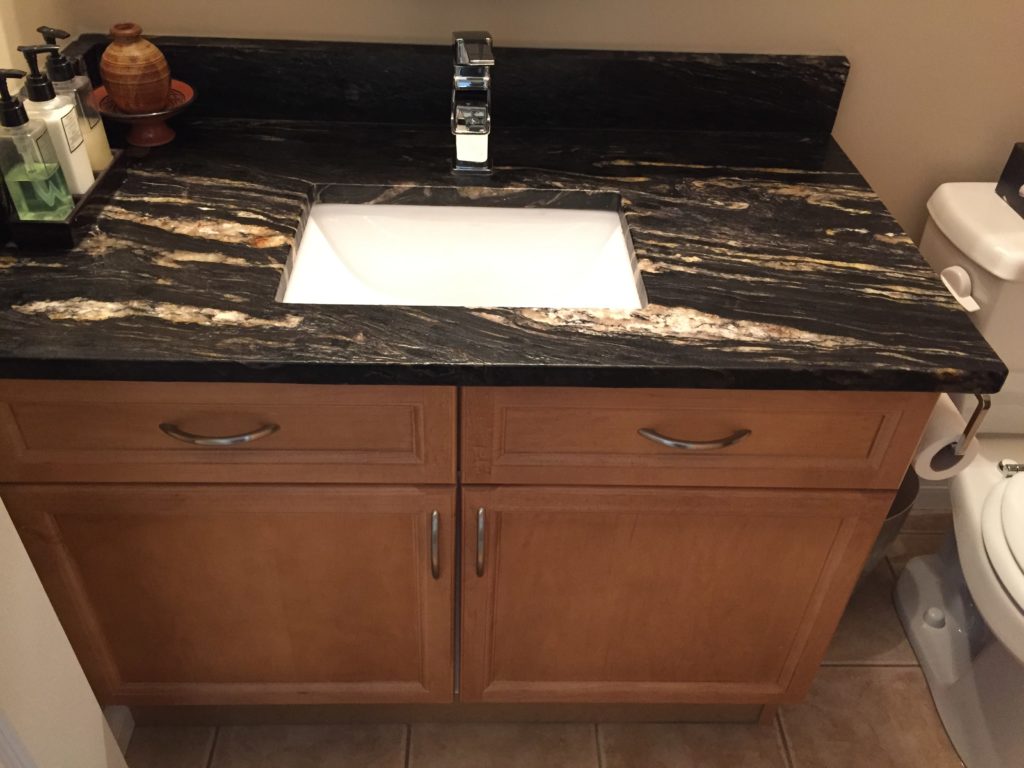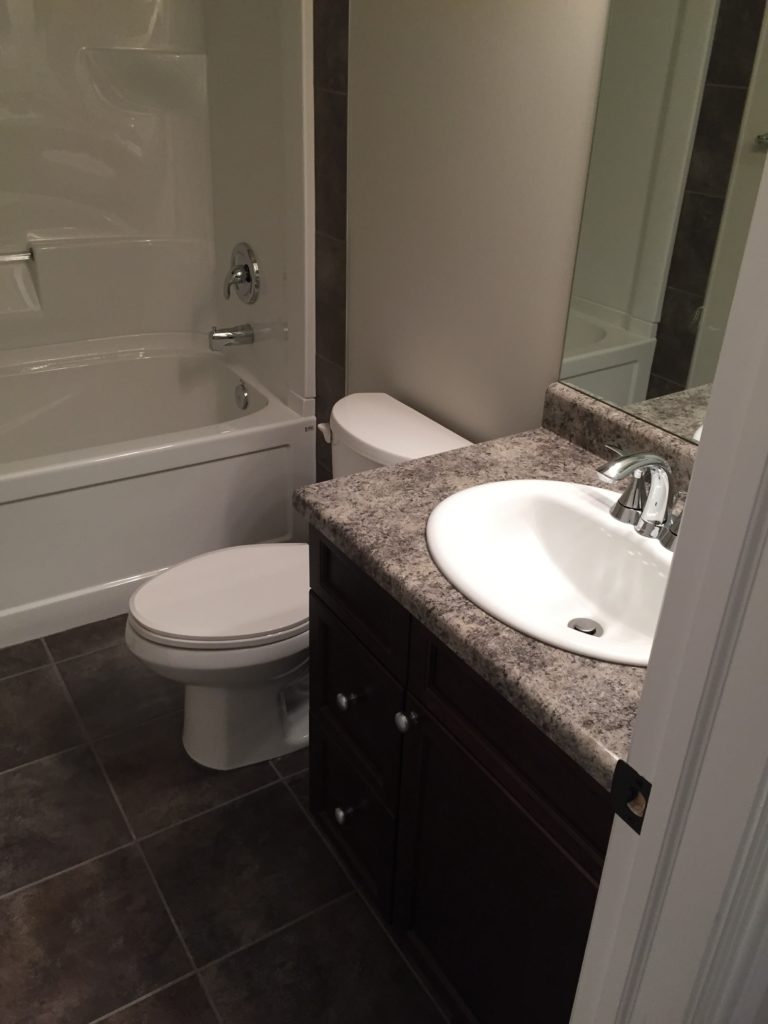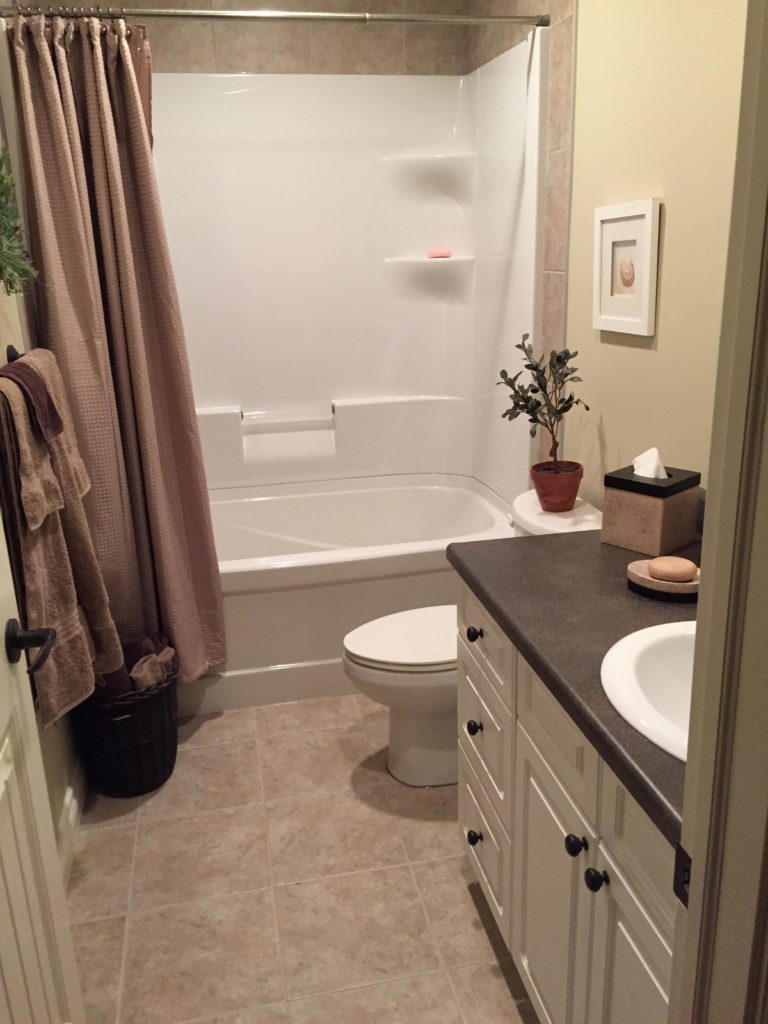 Bathroom Renovation Questions
If we need permits for our bathroom reno, can you apply for them?

We typically apply for permits for our clients but the client has also provided permits for us.
What's the difference between a bathroom renovation and remodeling?

A bathroom renovation is less invasive and usually is just replacing a sink or bathtub. While a bathroom remodel is when you're looking at completely changing your bathroom and starting from scratch.
How long does a bathroom renovation take?

If the renovation doesn't involve plumbing, rewiring or tiling, the job can be as little as two days and no more than a week. When remodeling your bathroom and starting from scratch it will involve a larger crew to have each task performed by a qualified tradesman. For a complete overhaul of an average-sized bathroom it can on average 2 to 4 weeks. These are averages and times will vary depending on scope, product and trade availability.
What is the warranty on bathroom renovations?

We offer a two-year warranty on all work. Please contact us if you have any further questions regarding our warranty.
What's the cost of a bathroom renovation?

A big contributor to the cost of a bathroom renovation is on the size of the bathroom and finishes you want to use.

Example: a 5×8 bathroom including sink, toilet and bathtub may cost somewhere between $10,000 and $20,000 depending upon the quality of materials you choose. If you have a budget in mind for your bathroom renovation or would like more information on our financing options, contact us for a 100% commitment-free estimate.
What other renovations does Do It All Contracting specialize in?