Home Renovations Edmonton
Give your home a personal touch with Do It All Contracting
Home Renovations In Edmonton & Surrounding Areas
Do It All Contracting Ltd is Edmonton's leading home renovation and general contracting company, operating in the Edmonton area for over 23 years. Since 1997 we have specialized in home renovations, basements, kitchens, bathrooms, exteriors & commercials for hundreds of residential and commercial clients.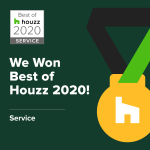 The team at Do It All Contracting prides themselves on helping all of our clients with any renovation project they might have. Our clients have continued to support us by giving us the most positive reviews in the home renovation and remodeling industry and our testimonials speak for themselves. Whether you are looking for a general contractor, basement development, or a home renovation expert, our Edmonton office has been offering these services since 1997 all complete with a 2-year warranty.
When you come to Do It All Contracting for your home renovation solutions we can help guarantee that your renovations or development are completed professionally within your budget. We pride ourselves on helping all our clients with any size project – no job is too small, we do it all! We service Edmonton, St. Albert, Morinville, Sherwood Park, Spruce Grove and area.

Benefits Of Hiring Do It All Contracting For Home Renovations
Attention To Detail
Sometimes all it takes is to think out of the box to create an interesting detail. With the experience of handling multiple projects of various types, Do It All Contracting can help you give a new dimension to your house or business. Even the smallest change done with attention to every detail can create magic. A third person's perspective can be useful in most of the remodeling projects.
Right Tools For The Job
All the tools that are needed for restoration and home improvement projects would be available with us. With the right tools, you can easily obtain precise results, and in a short time.
No Project Is Too Small
No project is too small. We consider every Edmonton home renovation project that comes our way the same way. Having handled homes small and big, we help you create the best restoration solution that works well for your space.
Professional Assistance
Experimenting with different materials and designs becomes easy when you have our professional assistance. Depending on the budget, we make it possible to get the best solution for significantly altering the looks of your home. Therefore, you do not have to postpone your home renovation plans due to budget constraints.
Stress-Free Experience
Do you have the time to get the job done? That should be the big question that bothers most homeowners. We take the load off your shoulders and simplify even the most complicated projects and save your time. Sometimes homeowners start a small home improvement project only to leave it as a work-in-progress task for days or months. In your busy schedule, we let you leave aside worries about completing the home update job and spend quality time with your family instead. While you focus on other priority tasks, we take care of the whole refurbishing job without any hassle.
Satisfied Customers
From saving a lot of time to focusing on the perfection of the output for long term benefits, there are several such perks to depending on us for professional residential & commercial renovating services. We've been in business since 1997 and have an impeccable record with the Better Business Bureau (BBB). We have a long list of satisfied customers in Edmonton, St Albert and surrounding areas.

Don't stress over home renovations
100% Commitment-Free Quote
Why Should You Stress About Home Renovations?
Some of the projects are simply part of the regular home maintenance job. This can be important for maintaining the structural integrity of the building. Even a well-maintained home might sometimes need a professional touch for understanding problems and fixing them early.
There are various types of home improvement jobs that can improve the value of your home. If you have plans to sell your home any time soon, then some significant home update tasks can strongly increase the home value. If you plan to let out your house on rent, then such projects can increase the possibility of fetching better rental rates. This also makes it easy to find buyers or tenants for the house. Houses that look chic and in good condition are the ones with the best resale value and rental value in the market.
Home Renovations That Can Boost Your Home Value
The above projects instantly make your home feel more alive and also attract potential buyers when you plan to resell your home. These are also some of the most popular projects for which homebuyers approach us.
We start with clearly understanding your objectives, and then we come up with suggestions that fetch the best value for your money. If you have a clear idea of what you want and only want some professional assistance in the implementation of the ideas, we can help with that too. End to end solutions or small level modifications, we take care of all kinds of projects that can make your home or office feel more personalized and more like 'your' space. With the transparent workflow, we follow it is easy to work even if it is your first time working with professional home renovators. Get clear estimates and then decide how and when you would like to proceed with the project. You can also have a plan fully tailored to meet your budget requirements.
With being in business for over 20 years, we have a vast amount of knowledge and experience in any renovation project. Take a look at some testimonials from our past clients on TrustedPros, Houzz, Home Stars and Google. Proudly servicing Edmonton, St. Albert, Morinville, Sherwood Park, Spruce Grove and area.